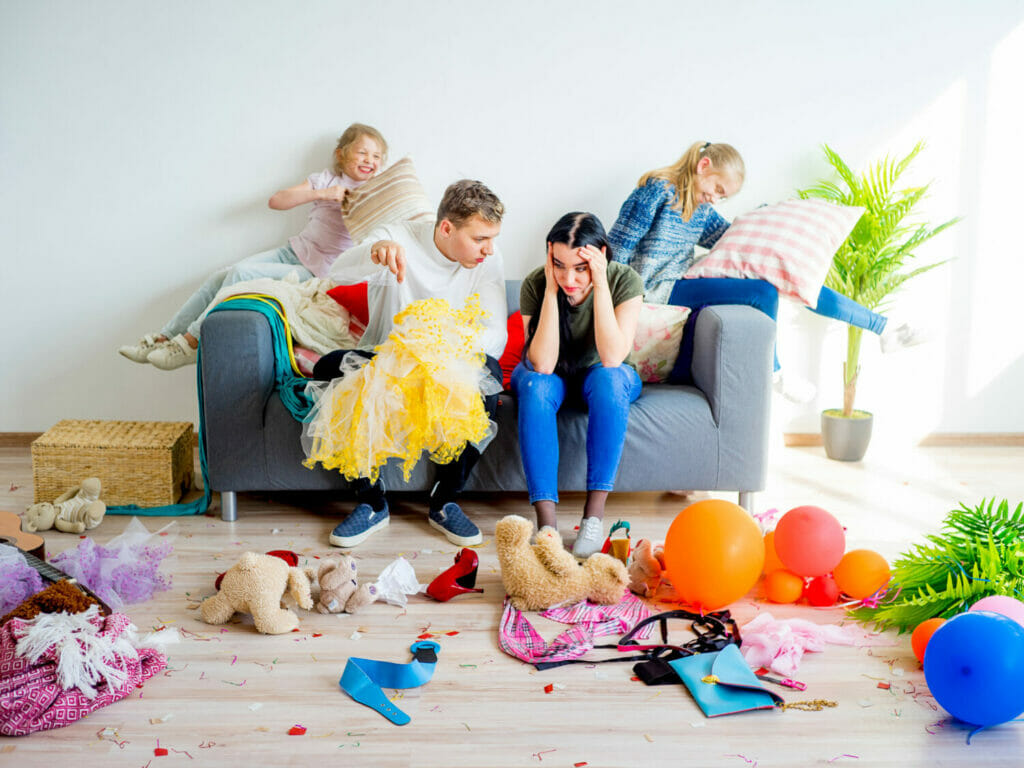 Clutter has a habit of creeping into all available spaces, especially in households with children. Clothes, toys, and food messes can pile up quickly, no matter how old your kids are. And you have your own belongings to worry about too!
Thankfully, you're not alone in the fight to stay organized. Even the most savvy housekeeping masters (looking at you, Marie Kondo) admit to struggling with messiness once they have kids.
Everyone deals with messes and clutter at some point in life. These are normal parts of being human. From time to time, however, it's a good idea to get the lack of organization under control.
A tidier space is easier to keep clean, and it helps with mental health and productivity (among many other benefits we won't get into here).
So if you have been feeling overwhelmed with the state of your home lately, we can help! Read on for 5 tips for cleaning and organizing with kids.
1. Be the Change You Want to See
Whether we like it or not, kids—no matter their age!—are always watching. Monkey see, monkey do, as the old saying goes.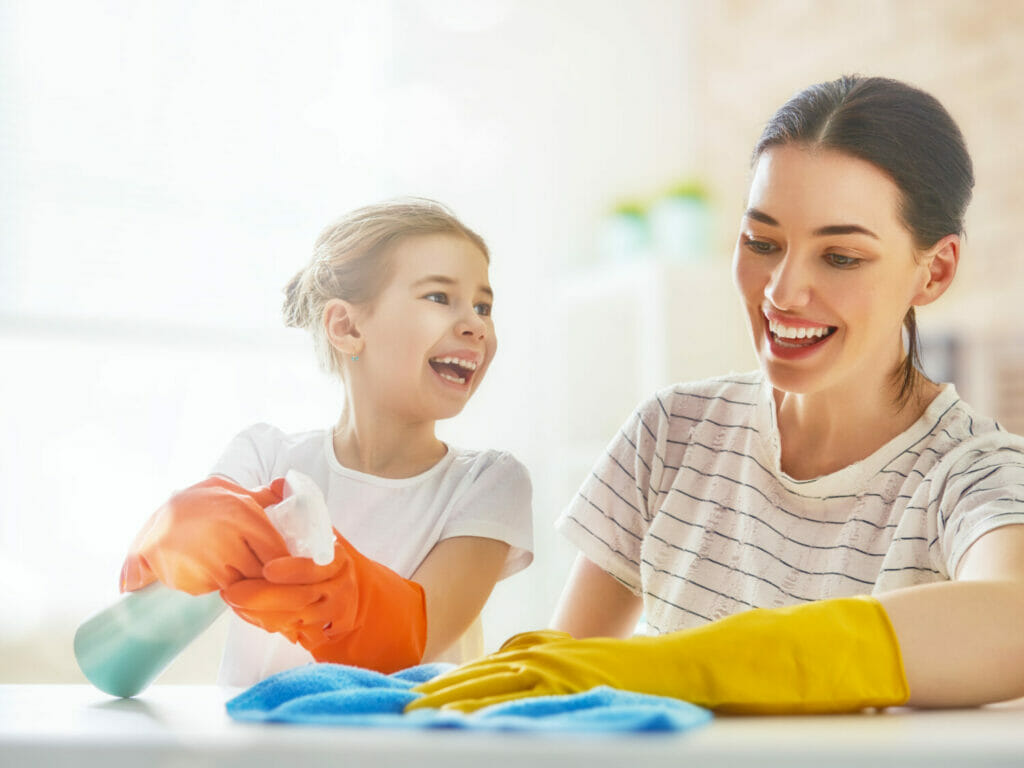 When it comes to clearing clutter, remember that change starts with you. The good news is that being an example of cleanliness does not need to be overwhelming.
Start small by considering only what you own and the spaces you mostly use yourself (yes, we know kids get into just about everything).
Take a look at your bedroom, for example.
Is the bed made?
Are your own clothes, shoes, and accessories put away?
Is the dirty laundry in a hamper?
Is anything obstructing the floor, surfaces, or seating areas?
If the bedroom looks tidy already, look around the other spaces in the house. What items of yours seem to be out of place? Do any surfaces you have used still need to be cleaned?
Now pick one item or area you want to prioritize. Start making a daily habit of putting the item away or cleaning up the space you've chosen. Once you feel you've mastered the habit, move on to another task.
When you feel more in control of your own mess, chances are you'll start to feel more capable of helping your kids tackle theirs—even if it's just one step at a time!
2. Make a To-Do List Together
Checking boxes is incredibly satisfying for most kids and teens alike. If yours are old enough to participate in brainstorming, sit down together to write a list of daily and weekly chores. Then decorate!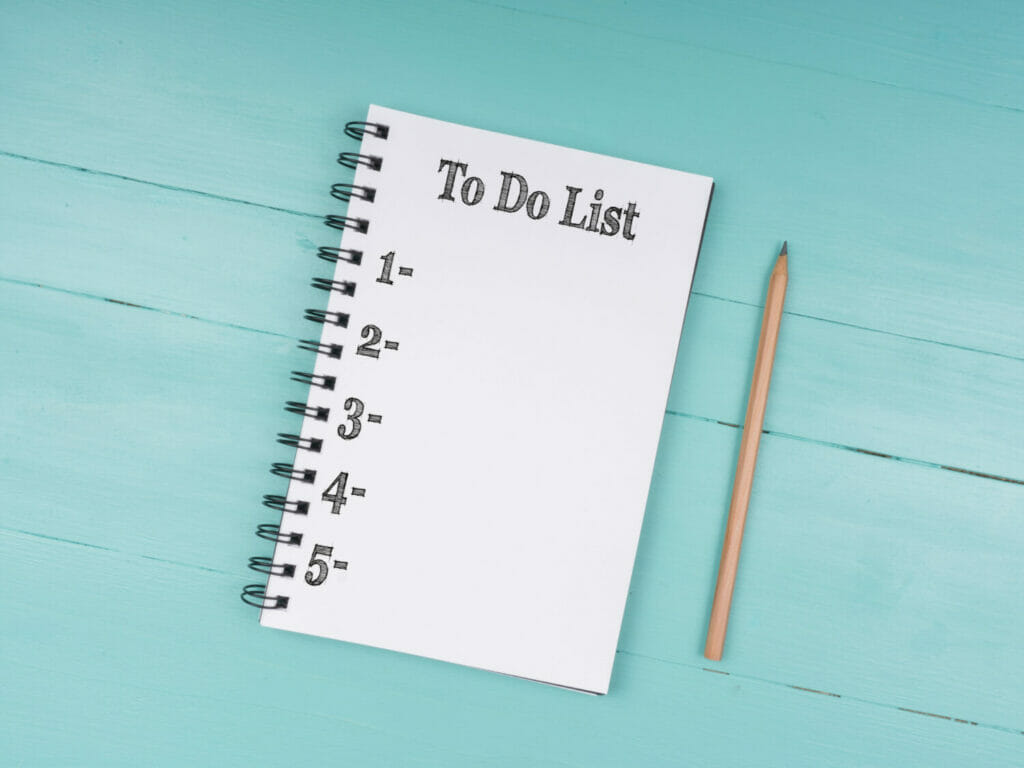 Stickers, crayons, sparkly glue, and lots of other craft supplies can turn a boring list into an exciting one. Keep the finished list where everyone can see it every day. Fridges are a great option.
Think of ways to celebrate together once all the spaces in the job chart have been filled, or when some other related goal has been met. Encourage your kids to contribute ideas for goals and rewards.
Here are some ideas of our own to get you started:
Bonus screen time
Go out for a special dessert
Camp out in the backyard (or living room)
Pick out a treat or drink at the gas station
Make (or buy) a piñata
Score an extra 30 minutes before curfew
Earn extra gas money for chores done properly
Simple and inexpensive rewards can help keep everyone from younger children to teens excited about reaching their housekeeping goals without putting more stress on you as the parent.
3. Turn Cleanup into a Game
Help your kids (and yourself) get through the drudgery of decluttering by turning it into a game. Teach them that every item has a "home" and show each child where it belongs. Everyone knows the cleanup song: 🎶 "Clean up. Clean up. Sing along as you pick up…" 🎶Then make organizing fun!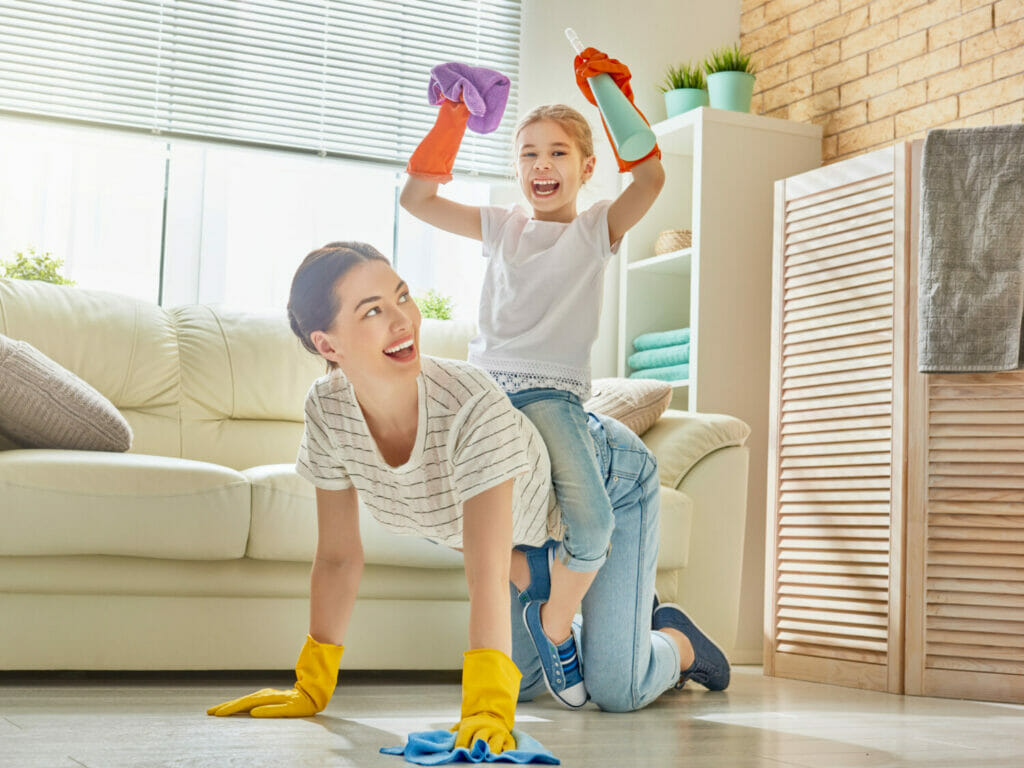 Here are some ideas to help gamify cleaning and organizing:
Races or timed challenges
Play-acting
Scavenger hunts
Some kids love a healthy dose of competition. Races and timed challenges can help the cleaning get done quicker, get everyone's blood moving, and bring out some good laughs!
For younger children, playing pretend may help decluttering and cleaning seem like less of a chore and more of an adventure. Think about your child's favorite characters and how you can integrate them into a simple cleaning routine.
Scavenger hunts can be especially fun for clearing clutter. Find items you can hide throughout the house and have the kids look for them as they clean. This can be a particularly good option for older children and teens as it keeps the cleanup task engaging.
The difficulty level can be adjusted depending on age, of course. Consider offering some kind of reward or celebration at the end as an added incentive!
4. Appreciate Your Child's Best Efforts
Reality hurts the most when it fails to meet our expectations. So, to avoid unnecessary pain, manage your expectations of your kids and their cleaning abilities!
Prioritize progress over perfection. Appreciate the value of a task getting done at all, even if it seems small.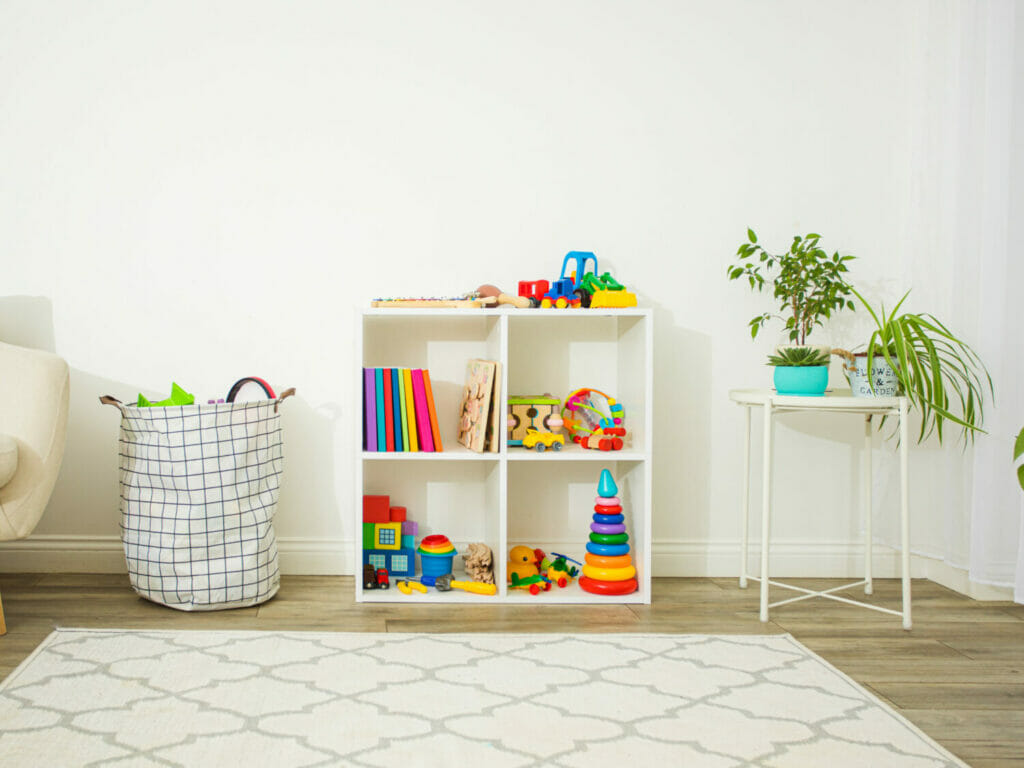 On occasion, kids may break something or use a tool improperly while cleaning. Try to foresee hazards and keep a close watch as your kids help around the house.
Educate your child on how to perform a task or care for an item correctly. If needed, block off access to dangerous cleaning tools your child may try to access when you are not with them.
5. Practice Asking for Help
Caring for kids requires wearing many hats and tackling lots of daily tasks—whether you're home with them full-time or juggling at-home and work responsibilities. When cleaning feels far too overwhelming, you should ask for help.
Many adults struggle with asking for help, particularly parents. Do your best to put aside feelings of guilt or the fear of inconveniencing someone. Your health comes first! And when you feel better, the rest of your family benefits too.
Consider these resources for extra help: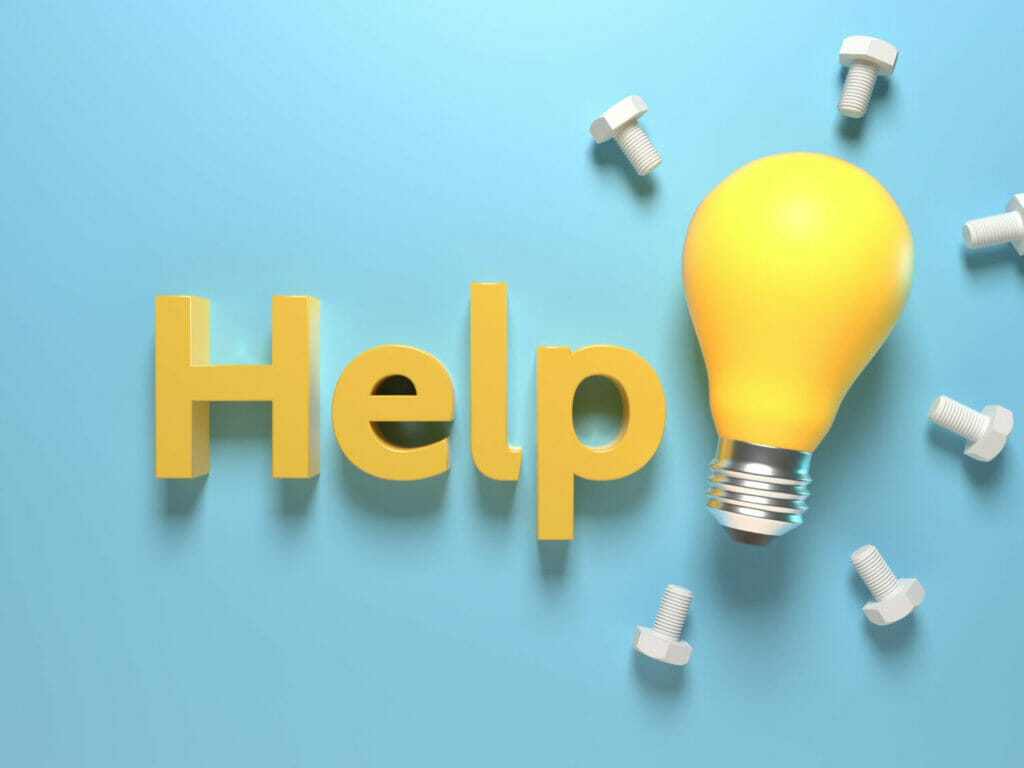 Screen time (it's ok in moderation!)
Friends & family
Hire a babysitter
Hire a housekeeper or a maid (if financially possible)
Hire a professional organizer
Meet with a mental health professional
Whether you pay someone or get help for free, finding people to support you goes a long way.
Need More Support? Bio-One Can Help
Sometimes decluttering and cleaning require help from professionals. At Bio-One, we're a close-knit crew devoted to cleaning up what others won't or can't.
We are fully trained, licensed, and insured to take care of any mess you can think of. From animal hoarding to active crime scenes, we've sanitized, removed, and disposed of it all. In our 20+ years of experience, we've definitely had our work cut out for us.
Our mission is simple: help first, business second. Call us at 303-625-6543 anytime, day or night. We'll answer!
If you prefer written communication, you can fill out a service request on our website.
We look forward to meeting you!
Bio-One teams across the U.S. answer calls to help their communities and remediate a variety of scenes. In our new blog series, we'd like to bring you into the Bio-One world by sharing stories of the unique and important work we do for local communities.
Here is Week 1 of our Bio-One Weekly Wrap-Up.
Homeless Encampment Clean-Up - Temecula, CA
On the west coat, the Bio-One team was called by the Hemet San Jacinto Chamber of Commerce to safely decontaminate an area outside their office. With homelessness on the rise, there is in increase of biohazardous waste that is sadly starting to accumulate in zones of our cities.
While Bio-One teams have been actively remediating homeless encampments for decades, we just refreshed this information on our Bio-One website. View it here.
"We are actively looking for partnerships to help keep our cities clean and safe for children and families." - Jason and William, Bio-One Owners
COVID-19 Disinfection to Raise Money for Local Police Sgt. - Asheville, NC
In the fall of 2020, it was announced that Jax, the 3 year-old son of Sgt. Jordan Warren at the Henderson County Sheriff's Office, was diagnosed with an aggressive form of cancer. Sgt. Warren has served the community in Henderson County for 10 years, and the community has rallied on his behalf by donating thousands of dollars for the family in their time of need.
To help raise money, the Bio-One team in Asheville raffled off a COVID-19 disinfection, up to 5,000 sqft for any home or business. The raffle ran through January 2021 and raised over $600. This week, the team happily treated the winner, Strong Hand Fitness, to the disinfection.
"Police officers and their families make big sacrifices to serve their community, most of which go unseen. So, when first responder families are in need, we want to help anyway we can. We wish the entire Warren family the best as Jax continues his fight." - Matt Gregg, Bio-One Owner
Cat Rescue - Flagstaff, Arizona
In January, the Bio-One team in Flagstaff answered the call to remediate an unattended death. They learned from the next of kin that a husband had passed away in the home while his wife, at the time, was fighting for her life at the local hospital after being diagnosed with COVID-19.
Once the team arrived, it was clear this would be a multi-day job. Not only was there a biohazard to remediate, but the home was hoarded and restoring the home to a safe environment was an urgent need. While working, the Bio-One crew identified three cats lingering in and around the home. Initially, it was assumed one cat was owned by the family, and the other two were part of the neighborhood. The first cat, nicknamed Hunter, was given to the Ark Cat Sanctuary for a checkup and to eventually find a new home. In the spirit of kindness, the team also provided food and water for the other two neighborhood cats when working onsite.
Several weeks passed, and the Bio-One team received word that the wife had sadly lost her life due to complications from COVID-19. The next of kin asked the team to revisit the home and remove remaining items. Shortly after work began, the two neighborhood cats were found. It was then revealed that the two animals were owned by the deceased couple. After living off the land for months, they were rescued by the Bio-One team and turned over to the Ark Cat Sanctuary for care. We hope each animal finds a loving home.
"We are very fortunate that our staff and owners have a heart for animals and will do whatever they can to help the pets like we do our clients." - Rebecca Wallace, Bio-One Owner